11/23(fri) 24(sat) RC Touki-Ichi (Pottery Fair)
2018.11.15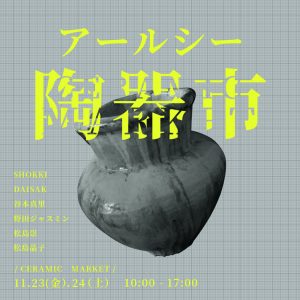 We are delight to announce that will have " RC Touki-Ichi (Pottery Fair)" for the initial attempt in the ground of RC HOTEL.
This fabulous 2 days fair will be a special collaboration with those who have helped us, such as SHOKKI,DAISAK,Mari Tanimoto, Jasmine Noda, Takashi Matsushima and Akiko Matsushima.
Furthermore, we will start a new art room from December, collaborating one of pottery artists who will attend this event.
At the best time to see fall colors in Higashiyama in 3 day weekend, please take this opportunity to come by RC HOTEL KYOTO YASAKA.
Date/Time: 10am-5pm, November 23rd(Fri)-24th(sat), 2018
Place : RC HOTEL KYOTO YASAKA (Address: 370 Yasaka Kamimachi Higashiyama-ku, Kyoto-shi, Kyoto-fu 605-0827)
Admission Free