10/21(sun) Harvest Moon Tea Party
2018.10.08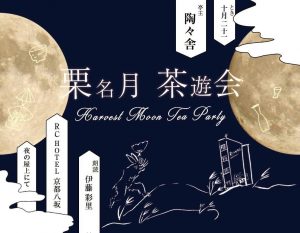 栗名月 茶遊会 (Kuri-meigetsu Cha-yukai)
Harvest Moon Tea Party
We are delight to announce that we will have Harvest Moon Tea Party at the top roof of RC HOTEL where you can enjoy a panoramic view of Higashiyama district. Gaze up at the moon while drinking green tea, sipping some sake, and listening to a poem under the full moonlight (十五夜/jugoya).
"野点"Nodate  means an open-air tea ceremony.
The tea ceremony is emerged in a greenery environment, that participants are seated
comfortablely for tea tasting and communicate with hearts.
DATE/TIME: 7:30pm~9pm, Sunday, October 21st
CAPACITY:  12 places
*Advance reservation only. Please contact us for your participation.
FEE: 5,000 YEN (including sake, green tea, traditional Japanese sweets, and poetry performance event by Sairi Ito)
PLACE: RC HOTEL KYOTO YASAKA.
Reservation:info@rchotelkyotoyasaka.com
https://rchotelkyoto.com/access
※Please note that the event will be canceled in case of rain.
【Totousha】
A house which is living 3 tea lovers near Daitoku-ji temple.
All comers are welcomed, and serving tea for everyone we meet.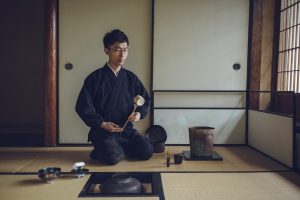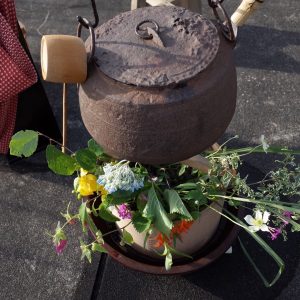 http://totousha.com
【Recitation:Sairi Ito】
Born in 1985, lives at Kyoto. She works as an actor and a performer on stages. She acted in experimental and forefront plays such as Marebito-no-Kai, Port B, and Takamine Tadasu's works.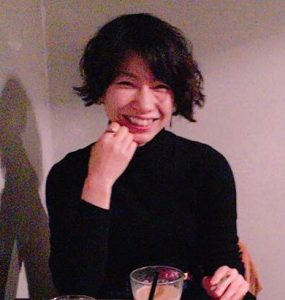 See you at Roof Top Terrace!