2018.08.14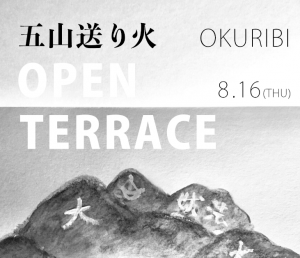 8月16日(木) 京都のお盆の終わりと告げる五山送り火を鑑賞していただけるように、RC HOTEL 京都八坂の屋上を解放いたします。
屋上は銀閣寺の大文字を除く他の送り火を全て一望できる特等席。この機会に是非RC HOTEL 京都八坂へお越しください。
▼概要
「五山送り火鑑賞」@RC HOTEL 京都八坂
日時:8月16日(木) 19:00-22:00 ※屋上解放は19:30-21:00
※1FBar腹話術でワンドリンク頼まれた方は屋上に上がっていただけます。
※雨天の場合、イベントは中止になります。
場所:RC HOTEL 京都八坂
お問い合わせ先:
info@rchotelkyotoyasaka.com
075-354-5406
2018.08.07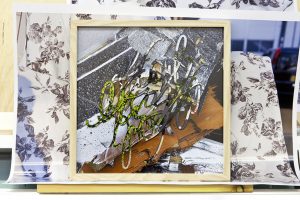 We are pleased to announce that RC HOTEL KYOTO YASAKA will start an art exhibition called"stone age in the woods "
collaborating with Shunsuke Kano, a modern artist who works in Kyoto, Japan.
Date: Thursday August 9th-Thursday November 1st, 2018
Gallery Rooms: Room 301and 302(Guests Only)
Public Gallery: 3pm-10pm at First Floor Lobby at RC HOTEL KYOTO YASAKA
*We are planning to have a screening event at a rooftop on September or October.
Kano originally started his career as a woodblock artist. His work is well-known for using concepts and techniques where he uses edited photos as physical objects and plays around with perspective.
His plane art is multilayered; he copies and pastes materials such as woods or stones onto themselves, then he edits these images over and over. The end result being that the interactions of multiple images and objects create an illusion that these photos have physical properties and multiple images. In addition, his art leaves the impression of a compression of time.
Recently, he has collaborated with two other Kyoto-based artists, collectively known as "THE COPY TRAVELERS."  Creating new art alongside these two other artists who work in different mediums from his own, such as sculpture and paintings, he has been expanding the scope and depth of his work.
In this exhibition, "Stone Age in the Woods," he will release a new art piece, making full use of his unique method, by overlaying images and objects on a silkscreen that is displayed directly on the wall.
We will have the exhibition using not only guest rooms*, but also the first floor lobby as a public gallery – a first for this hotel.   *Art in guest rooms is only for guests.
Please take this opportunity to come by RC HOTEL KYOTO YASAKA.
Shunsuke KANO
Born in Osaka, Japan. He graduated from Graduate School of Art, Kyoto Saga University of Arts with a master's degree.  Works in Kyoto. He uses photography as his main medium for studying the interaction of images and physics. He attempts to recapture the experience of "seeing "by expressing in plane, stereoscopic, video and various expressive forms.