2019.04.16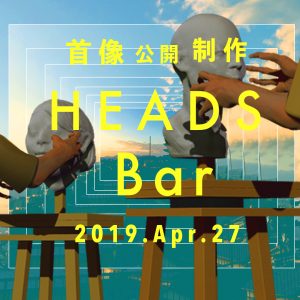 heads bar (Live performance art on portrait sculpture)
2019 April 27th
15:00-19:00
at : RC HOTEL KYOTO YASAKA roof top terrace
Motohiro Tomii"Accommodating Sculpture"
Duration: March 24th, 2019-June 23rd, 2019
Gallery Rooms: #301, #302 (Guests Only)
Public Exhibition: 15:00-22:00 from April 27th Sat) at Hotel Lobby
Event: A public talk by Motohiro Tomii in June (TBA)
Heads Bar (Live performance art on portrait sculpture, from 15:00, April 27th)
We are delighted to announce that RC HOTEL KYOTO YASAKA will have an art exhibition "Accommodating Sculpture" by the sculptor Motohiro Tomii.
*Please note that a part of artworks will be displayed at gallery rooms and the hotel lobby first. Then all the artworks will be a public exhibition from April 27th (sat) except gallery rooms.
Motohiro Tomii
1973 Born in Niigata, Japan.
1999 MA Fine Art (Sculpture), Musashino Art University (Excellent Graduates) / Tokyo, Japan
2015 Stayed NY as a member of Program of Overseas Study for Upcoming Artists (till 2016)
By adding to ready-made goods minimally, he releases a fixed meaning that ready-made goods used to have, and he discovers new perspectives of sculpture adding new color and shapes. He uploads" Today's Sculpture" on his twitter as an art performance. He also examines breaking rules or criticizing exhibition space of sculpture's tradition. He drawled attention from these activities.
His recent major exhibition is "zou wo musubu"(connecting to sculpture) (Yumiko Chiba Associates viewing room shinjuku/Tokyo, 2017)"Hikikomi-sen(lead-in lines)"(old the second Tokorozawa supply center of school meals/Saitama)"Composition-mono ga motsu ru-ru(Rules OBJECTS have)" (ATELIER MUJI/Tokyo 2018), "Water and Land Niigata Art Festival 2018"( YUI-PORT Niigata City Center for Creative Arts and International Youth Exchange/Niigata)" Beyond the future of Meld Sculpture " (Maki Fine Arts/Tokyo, 2018)etc. He is now Associate Professor at Musashino Art University, and a mediator of "Kabegiwa(wall side)"