2018.09.03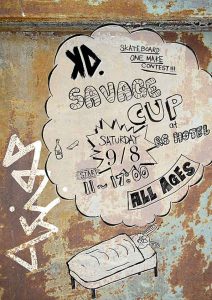 A skatepark will appear in RC HOTEL KYOTO YASAKA,
located in the Higashiyama: one of the city's best preserved historic districts!!
On September 8th, we are having a skateboard contest called "KD CUP" collaborating with KD( kizuna drunks) for the initial attempt in 17 years since their group's formation. It is a battle for a skateboard trick by using various objects handmade sections, unique and unusual, on the site of RC HOTEL. Rule is just a simple. The one who does the best trick will win!
You can see a skate bunk painted by LY who has been collaborating with RC HOTEL from start-up. Awesome DJs are gathering and working together to make this event a hit.
LY's new art work is revealing inside of the hotel. And original decks and T-shirts are one day only sale as well. We deal with other goods and even booze, too!
Again, this super special event and it is for one day only!
Even though you are not familiar with skateboarding, you can still enjoy drinkin', hangin' out, chillin' out. Don't miss it!
*we do not have LY's live painting.
START
11:00 ~ 17:00
.
DJ
YOTTU @yottu421
erolin (BURNING SIGN, NODAYSOFF, OTHER UNITED) @erolin
ZOO (soundspore, uc records) @soundspore
CH.O @ch.075
P.E (BONG BROS)
.
SHOP
@lampskateboard
@_____kd_____
@kawa_img .
LY
@ly_painter