11/9(sat)10(sun) | RC Touki-Ichi (Pottery Fair)
2019.10.24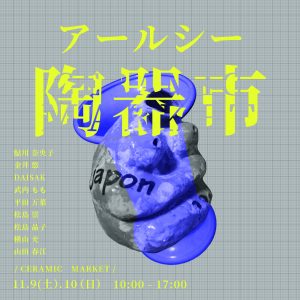 Date/Time: 10am-5pm, November 9th(Sat)-10th(Sun), 2019
Place : RC HOTEL KYOTO YASAKA (Address: 370 Yasaka Kamimachi Higashiyama-ku, Kyoto-shi, Kyoto-fu 605-0827)
Admission Free
Artists: Naoko Ayukawa, DAISAK, Yu Kanai, Momo Takeuchi, Maha Hirata, Takashi Matsushima, Akiko Matsushima, Mitsuru Yokoyama, Harue Yamada
We are delight to announce that will have " RC Touki-Ichi (Pottery Fair)" in the ground of RC HOTEL this year, too!
This fabulous two days fair will be a special collaboration with those who are related to Kyoto, such as Naoko Ayukawa, DAISAK, Yu Kanai, Momo Takeuchi, Maha Hirata, Takashi Matsushima, Akiko Matsushima, Mitsuru Yokoyama, and Harue Yamada.
At the best time to see fall colors in Higashiyama, please take this opportunity to come by RC HOTEL KYOTO YASAKA to look for your favorite ceramic items.