2018.10.06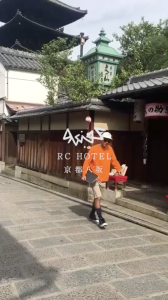 KD savage cup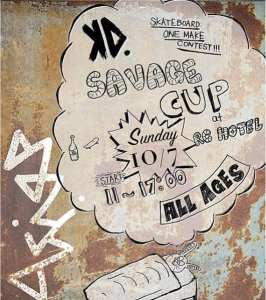 A skate park will appear in RC HOTEL KYOTO YASAKA, located in the Higashiyama: one of the city's best preserved historic
districts!! On October 7th, we are having a skateboard contest called "KD CUP" collaborating with KD( kizuna drunks)
for the initial attempt in 17 years since their group's formation. It is a battle for skateboard tricks by using various objects
handmade sections, unique and unusual, on the site of RC HOTEL. Rule is just simple. The one who does the best trick
will win! You can see a skate bunk painted by LY who has been collaborating with RC HOTEL from start-up. Awesome DJs
are gathering and working together to make this event a hit. LY's new art works are revealing inside of the hotel. And
original decks and T-shirts are selling one day only as well. We deal with other goods and even booze, too!
Again, this is a super special event and it is for one day only!
Even though you are not familiar with skateboarding, you can still enjoy drinkin', hangin' out, chillin' out. Don't miss it!
*Ly's live painting section is not available.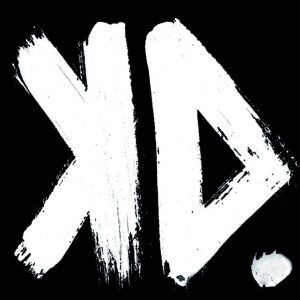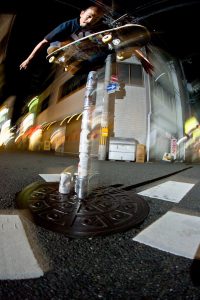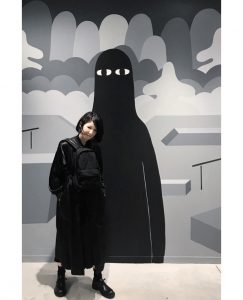 2018.09.03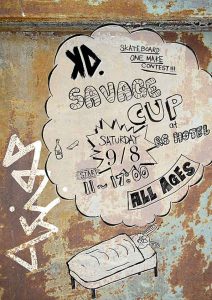 A skatepark will appear in RC HOTEL KYOTO YASAKA,
located in the Higashiyama: one of the city's best preserved historic districts!!
On September 8th, we are having a skateboard contest called "KD CUP" collaborating with KD( kizuna drunks) for the initial attempt in 17 years since their group's formation. It is a battle for a skateboard trick by using various objects handmade sections, unique and unusual, on the site of RC HOTEL. Rule is just a simple. The one who does the best trick will win!
You can see a skate bunk painted by LY who has been collaborating with RC HOTEL from start-up. Awesome DJs are gathering and working together to make this event a hit.
LY's new art work is revealing inside of the hotel. And original decks and T-shirts are one day only sale as well. We deal with other goods and even booze, too!
Again, this super special event and it is for one day only!
Even though you are not familiar with skateboarding, you can still enjoy drinkin', hangin' out, chillin' out. Don't miss it!
*we do not have LY's live painting.
START
11:00 ~ 17:00
.
DJ
YOTTU @yottu421
erolin (BURNING SIGN, NODAYSOFF, OTHER UNITED) @erolin
ZOO (soundspore, uc records) @soundspore
CH.O @ch.075
P.E (BONG BROS)
.
SHOP
@lampskateboard
@_____kd_____
@kawa_img .
LY
@ly_painter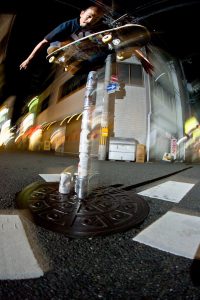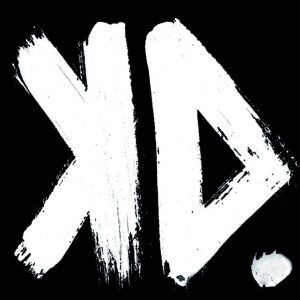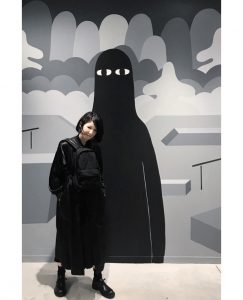 2018.08.07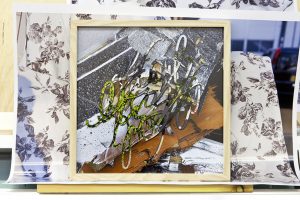 We are pleased to announce that RC HOTEL KYOTO YASAKA will start an art exhibition called"stone age in the woods "
collaborating with Shunsuke Kano, a modern artist who works in Kyoto, Japan.
Date: Thursday August 9th-Thursday November 1st, 2018
Gallery Rooms: Room 301and 302(Guests Only)
Public Gallery: 3pm-10pm at First Floor Lobby at RC HOTEL KYOTO YASAKA
*We are planning to have a screening event at a rooftop on September or October.
Kano originally started his career as a woodblock artist. His work is well-known for using concepts and techniques where he uses edited photos as physical objects and plays around with perspective.
His plane art is multilayered; he copies and pastes materials such as woods or stones onto themselves, then he edits these images over and over. The end result being that the interactions of multiple images and objects create an illusion that these photos have physical properties and multiple images. In addition, his art leaves the impression of a compression of time.
Recently, he has collaborated with two other Kyoto-based artists, collectively known as "THE COPY TRAVELERS."  Creating new art alongside these two other artists who work in different mediums from his own, such as sculpture and paintings, he has been expanding the scope and depth of his work.
In this exhibition, "Stone Age in the Woods," he will release a new art piece, making full use of his unique method, by overlaying images and objects on a silkscreen that is displayed directly on the wall.
We will have the exhibition using not only guest rooms*, but also the first floor lobby as a public gallery – a first for this hotel.   *Art in guest rooms is only for guests.
Please take this opportunity to come by RC HOTEL KYOTO YASAKA.
Shunsuke KANO
Born in Osaka, Japan. He graduated from Graduate School of Art, Kyoto Saga University of Arts with a master's degree.  Works in Kyoto. He uses photography as his main medium for studying the interaction of images and physics. He attempts to recapture the experience of "seeing "by expressing in plane, stereoscopic, video and various expressive forms.
2018.05.14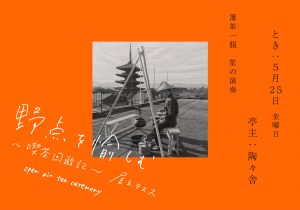 At the rooftop of RC HOTEL KYOTO YASAKA, aside from enjoying the cityscape of Yasaka area in Kyoto, during the tea ceremony,
our "Nodate" promoter "Totousha" will present tea and sho (a japanese wind instrument)performance. Please come to join us!
Date : 25th May 2018
① From 4PM ② From 6PM(sold out)
Est. time for the tea ceremony : around 1 hour
Maximum number of guest per group: 5
Price: 3000 yen
Tea 1 serving and snack included
Sho Music  performing
*Event will be cancelled if it is raining.
*Front desk will be the reception on day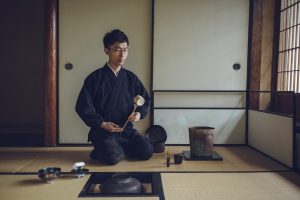 "野点"Nodate  means an open-air tea ceremony.
The tea ceremony is emerged in a greenery environment, that participants are seated
comfortablely for tea tasting and communicate with hearts.
"Totousha"
http://totousha.com
A house which is living 3 tea lovers near Daitoku-ji temple.
All comers are welcomed, and serving tea for everyone we meet.
Please reserve from below
harue_yamada@51actionkyoto.com
2018.02.19